An accurate diagnosis can make a real difference to your patients living with LGS1,2
Patients with LGS may reach adulthood without a specific diagnosis. At any age, an appropriate diagnosis can lead to more targeted care1,3
A specific diagnosis can help
when setting expectations and planning for future care with patients and caregivers.1
Treatment plans can be personalized
to a patient's particular conditions.1
Access to treatment can be improved
with a specific diagnosis of a patient's condition.2
Clinical features of LGS may delay or impede diagnosis:
Presentation is variable
sometimes without traditional signs and symptoms of LGS at onset.1,4,5
LGS changes over time
with different seizure types that evolve as patients age.1
Details of medical history may be lost
during transfer from pediatric to adult care, and characteristic EEG features may no longer be present by adulthood.2,3
The classic diagnostic triad is often used for initial diagnosis1,3:
Symptoms change with age; therefore, this triad cannot be solely relied on. At any age, an appropriate diagnosis can lead to more targeted care and better outcomes.
By adulthood, ~50% to 75% of patients diagnosed with LGS during childhood may no longer display all of the clinical and EEG features typically used to diagnose the syndrome.3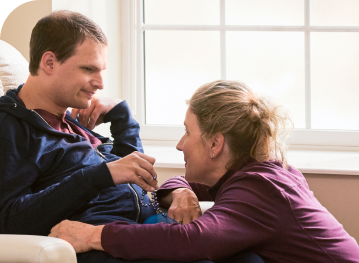 Steven, at age 32 | EPIDIOLEX patient living with LGS
The signs and symptoms of LGS change over time, confounding diagnosis
IDENTIFYING LGS ACROSS AGE GROUPS
YOUNG CHILDREN

(symptoms emerge: 2-8 years; peak onset: 3-5 years)5,6

ADOLESCENTS AND ADULTS

SEIZURE
TYPES

Generalized tonic and atonic seizures, and atypical absences5

Tonic seizures during sleep1,5

Generalized tonic-clonic and focal seizures may also occur5

Generalized tonic-clonic and atonic seizures, and atypical absences1,3,6

Tonic seizures present during sleep and may occur during wakefulness4,9

Increase in drop attacks leading to injury3,7

SEIZURE FREQUENCY

Daily to several times per week6-8

Changing frequency; fewer daytime seizures in some patients9

EEG

Pattern of slow spike-wave (SSW) complexes1,5

Decrease in/disappearance of SSW complexes, but other EEG abnormalities such as paroxysmal fast rhythms may be present7,9

NEUROLOGICAL ISSUES

Occurs in early childhood4,5

Up to one-third of patients may show normal functioning at or prior to seizure onset4,5

Up to 95% of patients may have cognitive impairment5

Behavioral problems such as hyperactivity, aggression, and autistic traits are seen in 50% of patients with LGS4,6,9

Motor impairment and gait deterioration may become more apparent3,7
Other common hallmarks of LGS2,3:
Persistent seizures

despite trial of 2 or more ASMs
Helmet/safety precautions to prevent

seizure-related injuries
If your patients exhibit any of these signs or symptoms, consider evaluating them for LGS. The cognitive and behavioral issues associated with LGS can be just as challenging for families and caregivers as the seizures themselves.1
The information provided is not intended to supersede independent clinical judgment or institutional protocols.