An accurate diagnosis can make a real difference to your patients with Lennox-Gastaut syndrome (LGS) or Dravet syndrome1-3
Patients with LGS or Dravet syndrome may reach adulthood without a specific diagnosis. At any age, an appropriate diagnosis can lead to more targeted care.
A specific diagnosis can help when setting expectations and planning for future care with patients and caregivers1,2
Treatment plans and management can be personalized to their particular conditions1,2
Without a specific diagnosis, it may be more difficult to access tailored treatment1,3
Clinical features of LGS may delay or impede diagnosis
Presentation
is variable
At onset, not all patients present with the traditional signs and symptoms of LGS2,4,5
LGS changes
over time
Patients may present with a number of different seizure types, which evolve as patients age2
Adolescent/adult
care complications
Details of medical history may be lost during transfer from pediatric to adult care, and characteristic EEG features may no longer be present by adulthood3,6
The classic diagnostic triad is often used for initial diagnosis2:
Multiple seizure types
Cognitive impairment
Abnormal EEG
However, this triad cannot be solely relied on, as symptoms can change with age6
By adulthood
~50% - 75%
of patients diagnosed with LGS during childhood may no longer display all of the clinical and EEG features typically used to diagnose the syndrome6
The Refractory Epilepsy Screening Tool for LGS (REST-LGS) was developed by a panel of experts to help lead to diagnosis for these patients.3
Signs and symptoms vary over time
IDENTIFYING LGS ACROSS AGE GROUPS
YOUNG CHILDREN

(symptoms emerge: 2-8 years; peak onset: 3-5 years5,7)

ADOLESCENTS AND ADULTS

SEIZURE TYPES

Generalized tonic and atonic seizures, and atypical absences5

Tonic seizures during sleep2,5

Generalized tonic-clonic and focal seizures may also occur5

Generalized tonic-clonic and atonic seizures, and atypical absences2,6,7

Tonic seizures present during sleep and may occur during wakefulness4,8

Increase in drop attacks leading to injury6,9

SEIZURE FREQUENCY

Daily to several times per week7,9,10

Changing frequency; fewer daytime seizures in some patients8

NEUROLOGICAL ISSUES

Occurs in early childhood4,5

Up to one-third of patients may show normal functioning at or prior to seizure onset4,5

Up to 95% of patients may have cognitive impairment5

Behavioral problems such as hyperactivity, aggression, and autistic traits are seen in 50% of patients with LGS4,7,8

Motor impairment and gait deterioration may become more apparent6,9

EEG

Pattern of slow spike-wave (SSW) complexes2,5

Decrease in/disappearance of SSW complexes, but other EEG abnormalities such as paroxysmal fast rhythms may be present8,9
Other common hallmarks of LGS:
Persistent seizures despite trial of 2 or more antiepileptic drugs3
Helmet/safety precautions to prevent seizure-related injuries6
If your patient is exhibiting even some of these symptoms, you may want to reevaluate their medical history and determine if they may have LGS2
The information provided is not intended to supersede independent clinical judgment or institutional protocols.
Diagnosing patients with Dravet syndrome can be challenging
Dravet syndrome often goes undiagnosed or can be misdiagnosed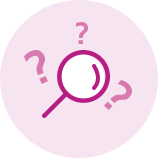 Despite early presentation, Dravet syndrome may not always be diagnosed, as most patients present as normally developing infants with febrile seizures1,11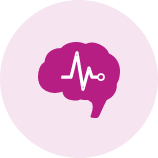 At onset, patients with Dravet syndrome typically have a normal MRI and nonspecific EEG findings1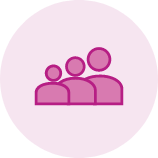 Childhood history is not always available in older patients, which can further confound diagnosis1
Though genetic testing is available, the presence of a sodium channel gene mutation is not sufficient for diagnosis, and absence of mutation does not exclude diagnosis1,12
Signs and symptoms may vary over time
IDENTIFYING DRAVET SYNDROME ACROSS AGE GROUPS
YOUNG CHILDREN

(seizures develop: ≤1 year1,11)

OLDER CHILDREN AND ADULTS

SEIZURE TRIGGERS

Typically hyperthermia1

May include flashing lights, visual patterns, bathing, overexertion1

Less frequently: hyperthermia1

Exacerbated with the use of sodium channel agents1

SEIZURE TYPE

Typically present as prolonged generalized or hemiclonic seizures and may include myoclonic seizures in the first 2 years of life1,11

After age 2: myoclonic, focal, impaired awareness, and atypical absence seizures; obtundation status1

Seizures often evolve into status epilepticus12

Persisting seizures: focal and/or generalized convulsive seizures; atypical absences; myoclonic and tonic seizures1

Often occur nocturnally11

Recurrent status epilepticus and obtundation status may become less frequent/may not occur1

DEVELOPMENT & BEHAVIORAL DISORDERS

Normal cognitive development prior to seizure activity; cognitive deficits emerge between 18 months–5 years1,12

Moderate to severe intellectual disability; slow language progression during second year of life1,12

Behavioral disorders: attention deficits/hyperactivity; oppositional and personality disorders; autistic traits; psychotic features11

Sleep disturbances1

MOTOR SYMPTOMS

Most patients have normal gait for the first 5 years of life; some begin to develop crouched gait and hypotonia1,13

Walking problems, such as crouched gait, ataxia, and balance problems11,13,14

Intention tremor14

Extrapyramidal rigidity11,14
Not all patients display all symptoms—even some of these characteristics can suggest Dravet syndrome11
The information provided is not intended to supersede independent clinical judgment or institutional protocols.